Futu News reported on September 22 that the three major Hong Kong stock indices rebounded collectively. The Hang Seng Index rose 1.21%, the Codex rose 2.39%, and the National Index rose 1.53%.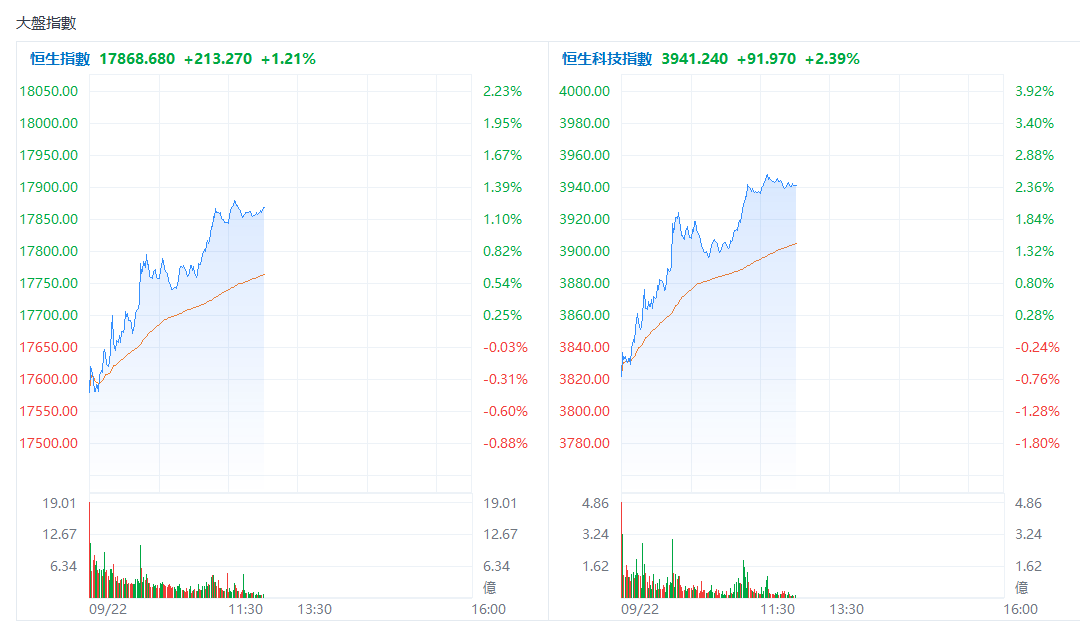 By the midday close, Hong Kong stocks had risen 928, fell 713, and closed 1,321.
On the sector side, the Science and Technology Network stock market rose strongly.Kuaishou rose more than 5%, NetEase rose more than 4%, Meituan and Bilibili rose nearly 3%, Alibaba and Tencent rose more than 2%, and Baidu and Jingdong rose nearly 2%.
Auto stocks are generally rising,The Great Wall rose nearly 4%, Xiaopeng, Ideal, and BYD rose more than 2%, Zero Run rose nearly 2%, Geely rose nearly 1%, and NIO bucked the trend and fell more than 3%.
The trends of real estate stocks and property management stocks are divided.Sunac Services rose nearly 4%, Country Garden Services rose nearly 2%, Sun Hung Kai Properties rose more than 1%, China's overseas development and Vanke enterprises rose slightly, Ocean Group fell more than 3%, Sunac China fell nearly 3%, Country Garden fell nearly 2%, China Resources Land fell more than 1%, and Longhu Group fell nearly 1%.
Big financial stocks have risen one after another,CICC and CITIC Securities rose more than 3%, China Galaxy rose nearly 3%, CMB and China Ping An rose more than 2%, Agricultural Bank and China Taibao rose nearly 2%, and China Bank and China Bank rose more than 1%.
Gold stocks bucked the trend and declined,Zijin Mining and Shandong Gold fell nearly 2%, and Zhaojin Mining fell nearly 1%.
On the other hand, Goldman Sachs sings about AI, saying that the sector still has more room to rise, and that AI concept stocks have risen across the board; mobile game stocks have generally strengthened; film and television entertainment stocks have become active again; leading Chinese stocks, semiconductor stocks, etc. have risen one after another; non-ferrous metal stocks such as copper and aluminum have declined; and most coal stocks have been sluggish.
In terms of individual stocks,$KUAISHOU-W(01024.HK)$It rose more than 5%, e-commerce and internal circulation advertising revenue remained strong, and the results were steadily realized over many quarters.
$ZTE(00763.HK)$With an increase of more than 4%, 6G technology may have achieved a major breakthrough, and the upstream is expected to take the lead in implementing it.
$MEIDONG AUTO(01268.HK)$There was an increase of nearly 6%, Porsche cut supply to the Chinese market, and the profit margin for new dealerships improved slightly.
$YANKUANG ENERGY(01171.HK)$It fell by more than 2%, UBS lowered its thermal coal price forecast, and the company's recent asset injection led to an increase in sales volume.
$LUDASHI(03601.HK)$It fell more than 15%. The company announced the cancellation of the board of directors, which had previously been reduced in shareholders' holdings.
$MOG DIGITECH(01942.HK)$After the resumption of trading, it plummeted by nearly 81%, and the company stopped issuing convertible bonds.
Top 20 half-day turnover
editor/tolk