Futu News reported on September 15 that the three major Hong Kong stock indices fluctuated upward. The Hang Seng Index closed up 0.75%, the Codex rose 0.46%, and the National Index rose 0.55%.
By the close, Hong Kong stocks had risen 1,037, fell 875, and closed 1,048.
The specific industry performance is as follows:
In terms of the sector, the majority of Science and Technology Network stocks have risen.NetEase and Meituan rose more than 1%, Bilibili, Kuaishou, JD, and Alibaba rose slightly, while Tencent and Baidu fell nearly 1%.
Auto stocks are getting stronger,NIO rose more than 5%, Zero ran up nearly 5%, Xiaopeng rose more than 2%, BYD and Ideal rose more than 1%, Great Wall fell more than 1%, and Geely fell slightly.
Real estate stocks and domestic housing stocks have had mixed ups and downs.Sun Hung Kai Properties rose nearly 2%, Country Garden rose nearly 1%, Ocean Group fell more than 12%, China Evergrande fell more than 10%, Baolong Real Estate fell nearly 7%, Sunac China fell nearly 3%, and Country Garden Services fell nearly 2%.
Gold stock gains narrowed in the afternoon.Zhaojin mining rose nearly 4%, Zijin mining rose nearly 3%, and Shandong gold rose slightly.
Telecom stocks fluctuated upward,China Mobile and China Telecom rose nearly 2%, and China Unicom rose nearly 1%.
Pharmaceutical stocks were strong throughout the day.Tiger Pharmaceutical rose nearly 6%, Pharmaceutical Biotech rose nearly 5%, Cansino Biotech rose more than 4%, Cinda Biotech rose nearly 4%, Rongchang Biotech and Kingsri Biotech rose more than 3%, Pharmaceutical Kangde and Kangfang Biotech rose nearly 3%, and BeiGene rose nearly 2%.
On the other hand, most of the building materials and cement stocks, Apple concept stocks, and restaurant stocks were active; electricity stocks, which had continued to rise, collectively pulled back, and their performance was weak throughout the day; most Chinese brokerage stocks declined in the afternoon.
In terms of individual stocks,$SUNNY OPTICAL(02382.HK)$With an increase of more than 3%, shipments from July to August exceeded expectations, and the automobile business is expected to drive performance.
$UNITED LAB(03933.HK)$An increase of nearly 9% hit a 3-year high, and UBT251 injection was recently approved clinically for overweight or obesity.
$MNSO(09896.HK)$It rose nearly 3% to a new high, nearly doubled during the year, and the company expanded at home and abroad and increased its profitability.
$WUXI BIO(02269.HK)$It has risen by nearly 5%, the CXO industry transfer trend has not changed, and an inflection point for overseas financing is being established.
$ALI PICTURES(01060.HK)$There was an increase of nearly 8%, and many leading films of various types were scheduled for the National Day program, and the box office growth was quite flexible.
Today's Top 20 Hong Kong Stock Turnovers
Hong Kong Stock Connect Capital
In terms of Hong Kong Stock Connect, Hong Kong Stock Connect (Southbound) today had a net inflow of HK$1,194 million.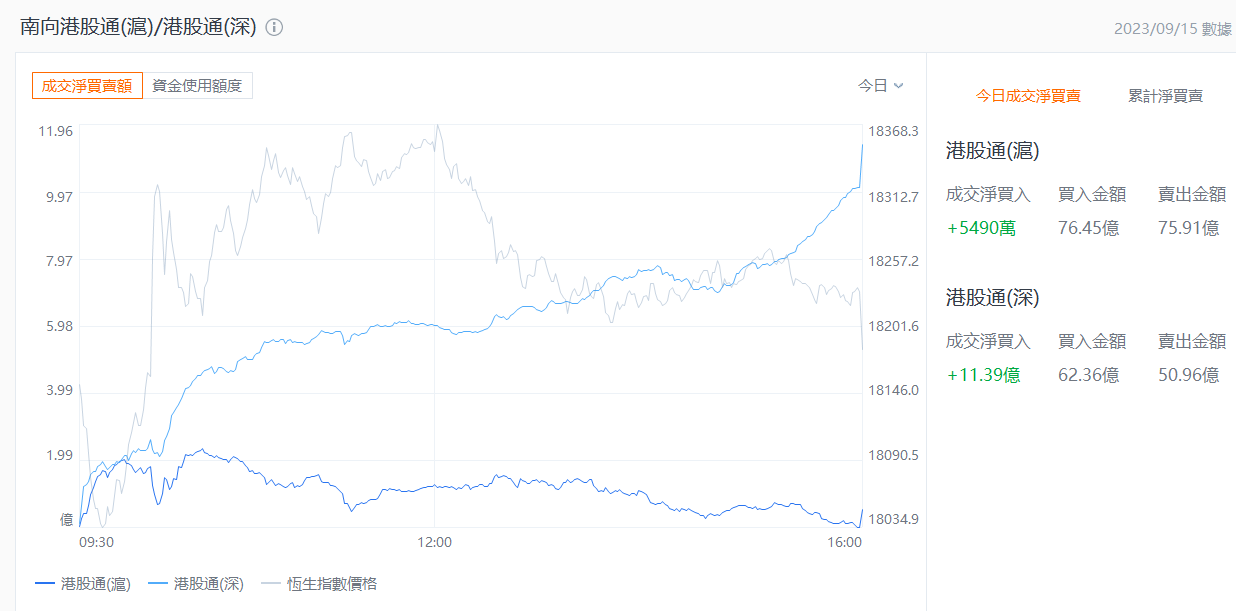 Agency Perspectives
Morgan Stanley upgraded Alibaba Pictures's rating to increase ownership, and raised the target price of Cat's Eye Entertainment to HK$14
Morgan Stanley published a report that will$ALI PICTURES(01060.HK)$The rating was raised simultaneously with the market to an increase in holdings, and the target price was raised to HK$0.61. It reflects a strong growth cycle, involvement in the comprehensive entertainment business, potential benefits of the Alibaba Group restructuring, and rich product line. In addition to the economic restart, it has also benefited from the improvement in film quality. The preferred option continues to be$MAOYAN ENT(01896.HK)$It is believed that the basic factors of this stock are strong. The current valuation is equivalent to 12 times the predicted price-earnings ratio for next year. The valuation is not high, ratings have increased, and the target price has been raised to HK$14.
Motong raised the target price of Ping An in China to HK$77, increasing its rating
J.P. Morgan Chase published a research report stating,$PING AN(02318.HK)$The results for the first half of the year, based on IFRS 17, were strong. The bank believes that since asset risk has subsided, the return situation in the internal insurance sector is attractive to investors, so it raised the target prices of Ping An of China's H shares and A shares by 10% and 16%, respectively, to HK$77 and RMB 72.
Goldman Sachs slightly raised Sunyu's target price to HK$78.13, and paid in July to August
Goldman Sachs published a research report stating,$SUNNY OPTICAL(02382.HK)$Shipment performance from July to August beat expectations, indicating that the pace of recovery was faster than expected. The previous gross margin forecast was maintained and the neutral rating was maintained, while the target price rose slightly from HK$78 to HK$78.13.
editor/tolk