On the evening of the 20th Beijing time, US stocks opened Monday with mixed ups and downs. US Treasury yields are higher. This week, the market focused on the minutes of the Fed's monetary policy meeting and Nvidia's earnings report. Nvidia is ranked by many institutions as the most preferred stock to buy and pay attention to.
As of press release, the three major indices are rising. The S&P 500 Index is up 0.18%, the Nasdaq Composite Index is up 0.45%, and the Dow Jones Index is up 0.08%.
US Treasury yields are higher. On Monday morning, US 10-year Treasury yields rose 3.5 basis points to 4.476%. The benchmark index closed at 4.44% on Friday.
The US stock market was closed this Thursday due to the Thanksgiving holiday, and closed early on Friday.
Until the end of the year, US stock bulls were still enthusiastic, especially after last week's lower-than-expected US inflation data calmed investors' nervousness about high inflation and gave them hope that the Fed would end interest rate hikes.
John Stoltzfus, Oppenheimer's chief investment strategist, said: "We remain optimistic about the stock market and expect the recent gains we have experienced will expand as the US economy continues to expand sustainably at a moderate pace."
In recent years, trading in the US stock market around the Thanksgiving holiday has been volatile, but according to the "Stock Traders' Yearbook," November is still the best performing month of the year for the S&P 500 Index.
As far as economic data is concerned, this week seems to have been a relatively calm one. On Tuesday afternoon EST, the Federal Reserve will release the minutes of its latest policy meeting, from which the market will explore the Fed's thoughts on the future interest rate path.
The Federal Reserve kept interest rates unchanged for the second time in a row at the last meeting. Economic data released earlier showed declining inflation and slowing economic growth, leading investors to speculate that the Fed may have finished raising interest rates, or even cut interest rates next year.
The market has almost ruled out the risk of further US interest rate hikes in December or next year, and predicts a 30% chance that interest rate hikes will begin in March next year. Futures also suggest that interest rates will be cut by about 100 basis points in 2024, up from 77 basis points before October's moderate inflation report shocked the market.
The US stock earnings season has come to an end. Key companies reporting earnings this week include Baidu, Best Buy, Deere, Keysight, Cole, Lowe's, and Zoom Video Communications (ZM).
Tech giant Nvidia will release financial results after the market closes on Tuesday EST. The chipmaker was the best performing stock this year, rising more than 200%.
Crude oil prices continued their rebound on Friday. On Monday morning, US WTI crude oil futures rose nearly 2%. The price of WTI crude oil was above $77 per barrel last Friday.
Individual stocks in focus
Star technology stocks had mixed ups and downs. Microsoft rose more than 1%, Tesla, Apple, and Amazon rose, and Google fell slightly.
Most popular securities in China rose, with Manbang rising more than 14%, Xiaopeng Motor rising nearly 8%, NIO rising nearly 7%, and Good Future rising nearly 6%.
$Tesla(TSLA.US)$There was a slight increase, and the company will once again raise sales prices in the Chinese market this week. This will be the fourth consecutive price increase for the company recently, targeting all models.
$Microsoft(MSFT.US)$With an increase of nearly 2%, OpenAI founders Sam Altman and Greg Brockman will join Microsoft to help lead a newly established in-house AI development team.
$NIO Inc(NIO.US)$The increase was nearly 7%. The co-founder's previous statement appeased investors by saying it was "absolutely impossible" for the company to go out of business.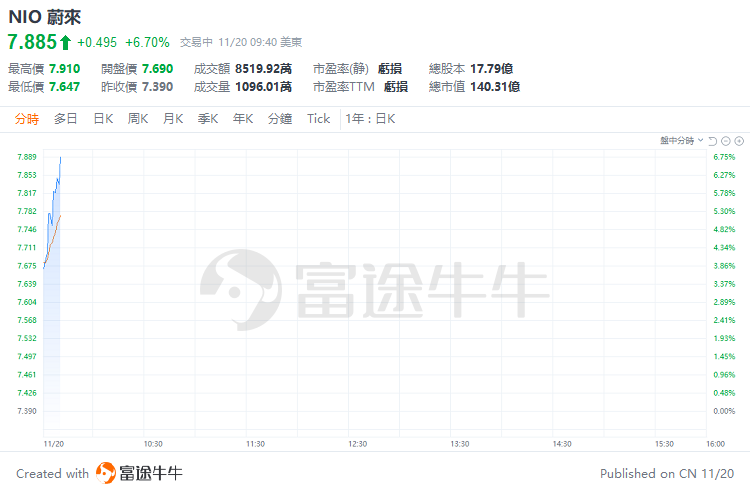 edit/new