Source: Gelonghui
The "farce" of OpenAI finally came to an end after going through reversals, reversals, and reversals.
Altman made sure he wouldn't return to OpenAI and joined Microsoft. Microsoft CEO Nadella recently announced on Platform X: Sam Altman and Greg Brockman and their colleagues will join Microsoft to lead a new high-level AI research team. Microsoft remains committed to partnering with OpenAI.
Sam Altman then retweeted: The mission continues.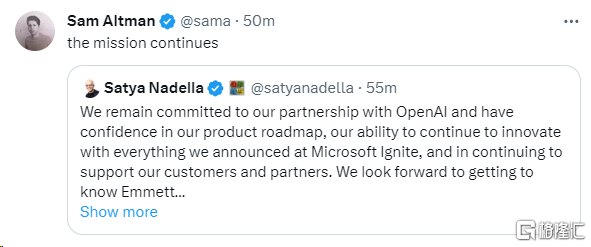 Meanwhile, OpenAI also announced a new CEO — Emmett Shear (Emmett Shear), the former CEO of Twitch, will be the interim CEO of OpenAI.
Looking back, in OpenAI's "Gong Dou" this time, Altman wasn't taken by Google or Amazon, so Microsoft was relieved and became the biggest winner.
Altman Joins Microsoft
The OpenAI board recently stated that Sam Altman will not return. Former Twitch CEO Emmett Shear (Emmett Shear) will be the interim CEO of OpenAI.
Regarding Altman's dismissal on Friday, the board recently stated that it is firmly adhering to its decision, believing it is the only way to advance and defend OpenAI's mission."
"Simply put, Altman's actions and his lack of transparency in his interactions with the Board have undermined the Board's ability to effectively monitor the company as authorized."
Previously, Altman's sudden outing shocked investors in the tech industry and OpenAI, including Microsoft, Sequoia Capital, and Thrive Capital.
According to reports, Microsoft, which has invested more than 13 billion US dollars in OpenAI, only learned about Altman's exit one minute before the announcement, while other investors discovered through social media that he was forced to quit.
So in addition to being shocked, Kim Joo's dads were also angry about this. Over the weekend, investors and some employees of OpenAI pressured the company's board of directors to reinstate Altman as CEO.
Under pressure, OpenAI then had to negotiate a return with Altman. But now it appears that the negotiations have broken down.
According to people familiar with the matter, Altman attached several conditions to his return, including a change in the way OpenAI is managed, the removal of the board of directors, and a statement exonerating him from wrongdoing. But in the end, the board was unwilling to give in to these demands, and began searching for a CEO on its own.
Earlier, Altman also posted a photo of himself wearing an OpenAI visitor card on X with the caption: "This is my first and last time wearing this."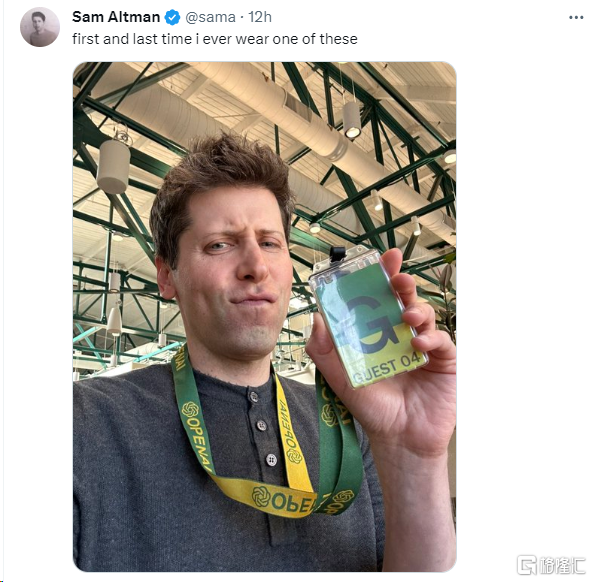 OpenAI's new CEO
In fact, the difference between OpenAI's "palace drama" is that the board of directors and Altman have different positions on the company's development plans.
Altman plans to transform OpenAI from a non-profit organization into a successful enterprise, and wants the company to launch products and register customers more quickly.
But this raised concerns among board members about the safety of artificial intelligence tools. Meanwhile, the newly appointed former Twitch CEO Emmett Shear (Emmett Shear) has cut into the core of the department OpenAI has built over the years.
According to OpenAI's board, Mr. Shear "has unique skills, expertise, and relationships that will drive OpenAI forward."
Emmett Shear also responded on the X platform that he accepted the invitation to become the CEO of OpenAI. Shear said he accepted the job because he believes OpenAI is one of the most important companies out there.
When the board of directors revealed the situation to me and asked me to take over this position, I did not make an easy decision. At the end of the day, I feel it's my responsibility to help if I can. Today I drank as much water as possible, talked to the board, a few key partners, and listened to employees.
Our partnership with Microsoft remains strong, and my priority over the next few weeks will be to ensure we continue to provide good service to all of our customers.
As you've probably guessed, the staff at OpenAI is very impressive and has a very sense of mission. It's clear that the process and communication surrounding Altman's eviction were handled very poorly, which seriously undermines our trust.
Shear also has three plans for the next 30 days:
- Hire an independent investigator to thoroughly study the entire process up to now and generate a full report.
- Continue talking to as many employees, partners, investors, and customers as possible, taking notes, and sharing key points.
- In light of recent separations, the management and leadership team was reformed to become an effective force in delivering results for clients.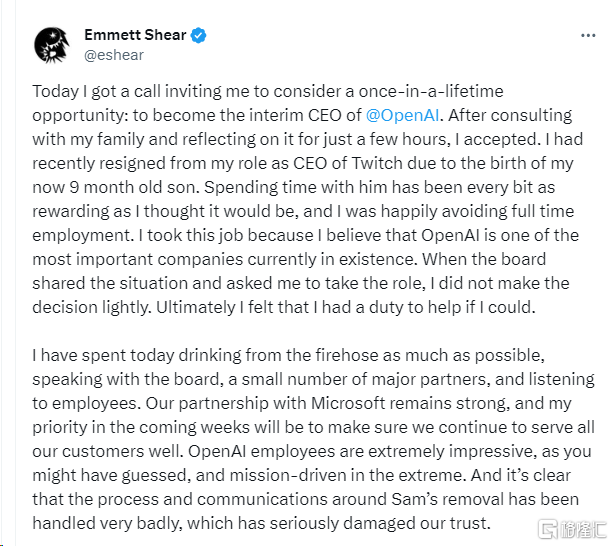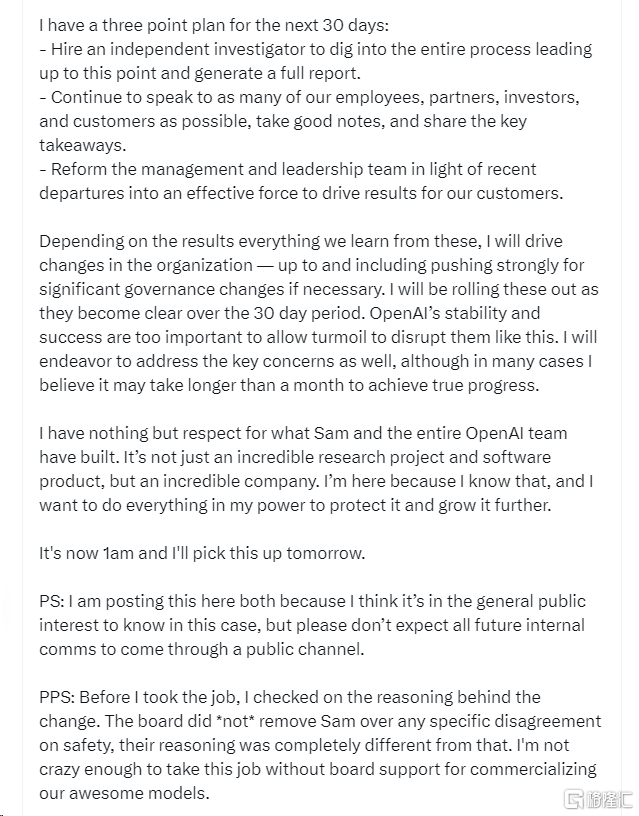 Earlier this year, Shear resigned as CEO of Twitch, a game streaming site owned by Amazon.com Inc. (Amazon.com Inc.) due to the birth of her son. A person familiar with the matter said he has won the support of directors because he has recognized the existential threat posed by artificial intelligence in the past.
Regarding Shear's appointment, Ethan Kurzweil (Ethan Kurzweil), a partner at venture capital firm Bessemer Partners, said:
"It was a great choice. But it's not easy to clean up the mess now, but Emmett has all the skills to succeed in this area, and I think he has enough credibility to calm the turbulent waters now. He's a forward-thinking person, a very deep technical expert, but also a great communicator."
OpenAI may face great turmoil
Now, as OpenAI's "palace transformation" comes to an end, a series of wide-ranging effects may follow.
On the one hand, OpenAI's valuation and the investments it has received may suffer.
Previously, Thrive Capital was expected to take the lead in the acquisition of employee shares, a deal that would bring OpenAI's valuation to $86 billion. However, after Altman's sudden departure, Thrive Capital told OpenAI that his departure would affect its actions.
Furthermore, the turmoil could also disrupt Microsoft's biggest investment in artificial intelligence, the $13 billion bet on OpenAI and its former CEO. As the largest investor, Microsoft has also been trying to mediate with OpenAI to reinstate Altman's position.
On the other hand, OpenAI may usher in a wave of resignations. According to people familiar with the matter, some researchers, including Szymon Sidor, left the company after the CEO change.
According to The Information, shortly after Shear's appointment was announced internally, impatient employees "poured out" from OpenAI's San Francisco headquarters. The report quoted a person familiar with the matter as saying that on Sunday evening, dozens of employees announced their resignations within the company.
Regarding this matter, some netizens analyzed that over time, OpenAI will become Microsoft's "artificial intelligence security" department. All prudent people gathered in one place to manage from a distance, while Altman was at the cutting edge of gaming.

Editor/Jeffrey