Source: Wall Street News
At a time when global crude oil consumption remains strong, Czarist Russia and Russia have jointly cut production and consumption of inventories, boosting crude oil prices.
On Monday, Brent crude oil, the benchmark for global oil prices, approached the 95 US dollar mark, and WTI crude oil rose to 91.03 US dollars/barrel, all of which achieved three consecutive weeks of continuous growth, close to the highest point in 10 months, and are expected to record the biggest quarterly increase since the Russian-Ukrainian conflict in the first quarter of 2022.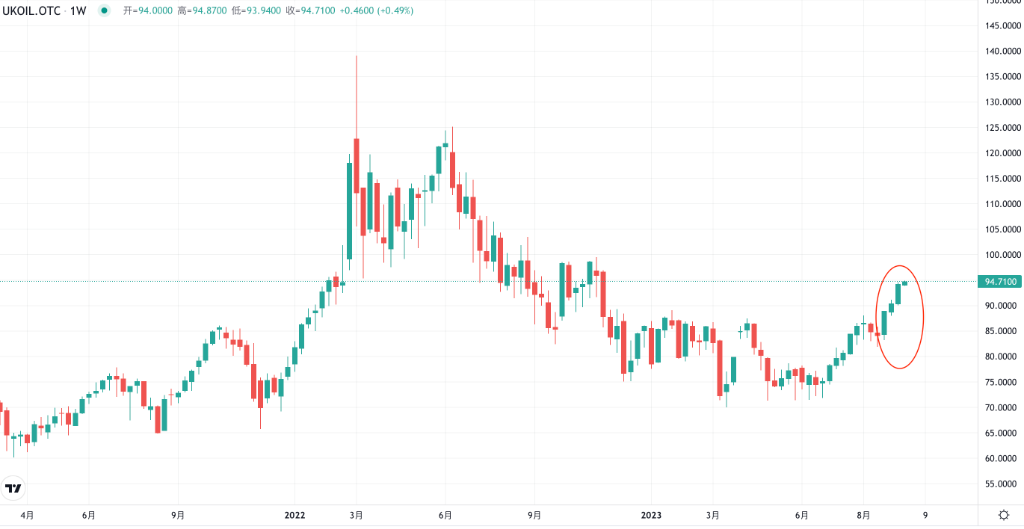 The rally in recent days has been accompanied by a jump in the key timesharing chart, which indicates that the market supply is insufficient and that the price of call options is getting higher and higher. inAgainst the backdrop of falling crude oil inventories, speculators' net bullish bets on Brent crude oil and WTI crude oil rose to their highest point in 15 months.
In the past three weeks, Brent crude oil has risen 11%. The main reason is that major OPEC+ member countries are curbing production, and demand prospects are bright. The US may avoid a recession, and China's refineries are also making every effort. It is worth mentioning that China is regarded as the engine of oil demand growth. A series of stimulus measures and the summer tourism boom helped industrial output and consumer spending to rebound last month, and Chinese refineries increased production, driven by strong export profits.
How will the market go in the future? Analysts' opinions are mixed
In the spot market, refined oil products such as diesel are sending a warning signal. Refineries around the world are no longer able to produce enough industrial fuel, and prices have far exceeded the price of crude oil.
In response, Arne Lohmann Rasmussen, head of research at A/S Global Risk Management, stated:
We have long believed that the oil market will become increasingly tight in the second half of 2023.Now that this shortage has arrived, $100 per barrel seems only a matter of time.
Citi, on the other hand, has the opposite view, believing that increased supply will ease the shortage. Citigroup analyst Ed Morse pointed out:
Although technology traders and geopolitical risks may push oil prices above $100 in the short term,But the additional supply means "the $90 price of oil is unsustainable," which in turn will lower the prices of major fuels such as gasoline and diesel.

Supply outside of OPEC+ will increase by 1.8 million b/d this year and another 1 million b/d next year. This includes increases from Canada, Brazil, Argentina, Guyana, and Norway. The US is likely to add 900,000 barrels per day this year, and another 400,000 barrels next year.
Follow this week's major events affecting oil prices
"Super Central Bank Week" is here this week, and the Federal Reserve, the Bank of England, the Swiss Central Bank, and the Bank of Japan collectively appeared.
PVM analyst Varga pointed out that since inflationary pressure has generally been successfully mitigated, people are increasingly unanimous that interest rate peaks are not far off. However, investors are still uncertain about when the central bank will start cutting interest rates.Slogans that remain high for a long time will eventually have a negative impact on economic growth and oil demand.
On the other hand, the sharp rise in oil prices seems to be triggering inflationary pressure on a global scale, and central banks, including the Federal Reserve, are trying to determine whether to take sufficient measures to curb price increases.
From the supply side, Saudi Arabia and Russia extended the supply cuts until the end of this year this month, but it is uncertain whether these cuts will continue until next year.Saudi Energy Minister Abdul Aziz bin Salman will deliver the keynote address at the World Petroleum Conference to be held in Calgary later on Monday.
edit/new