Editor's note:"US Stock Nuggets"Keep up with market trends on a daily basis, gain insight into and sort out popular changes and individual stocks with outstanding gains, provide Niuyou with multi-dimensional investment opportunity references, and help Niuyou seize investment opportunities!
Key focus
It has increased more than 30 times in 1. 15 years! US private equity fund giants$KKR & Co(KKR.US)$This year, it has surged by nearly 40%, and its market capitalization has exceeded 50 billion US dollars. According to the news, the company plans to acquire 20% of the shares in Singapore Telecom's data center division for up to S$1.1 billion.
2. Uranium prices continue to reach new highs, stimulating uranium mining giants$Cameco(CCJ.US)$Stock prices have continued to rise, with a cumulative increase of nearly 80% during the year.
According to pricing data provider UxC, the price of uranium has soared about 12% over the past month to $66.25 per pound, breaking through last year's peak and reaching a new high since 2011.

The World Nuclear Association said in its biennial report earlier this month that as governments increase their installed capacity to achieve zero carbon targets, demand for uranium from nuclear reactors is expected to surge by 28% by 2030 and nearly double by 2040.

Jefferies analysts say utilities will sign more uranium contracts in 2023 than in any year since 2012.
3. Has the winner of the American auto workers' general strike emerged?$Toyota Motor(TM.US)$It achieved five consecutive increases, and the stock price continued to reach new highs during the year.
According to the news, the American Federation of Auto Workers (UAW) strike against the Big Three American automakers (Ford, GM, and Stellantis) has entered its third day. Earlier, Ford warned that it would give an extra boost to non-union rivals Tesla Inc. and Toyota Motor Corp.
4. Add Asia! The third factory may land in Indonesia, "Vietnam Tesla"$VinFast Auto(VFS.US)$It rose more than 4%, ranking first on Friday's growth list.
The company announced that it will expand into seven markets in Asia, including Indonesia, with the goal of starting delivery next year and establishing a plant in Indonesia in 2026, which will also be its third plant worldwide.

However, it is worth noting that in the first half of this year, the company sold a total of 11,300 vehicles, of which 7,100 were purchased by Green and Smart Mobility (GSM), a taxi company owned by VinFast's parent company, VinGroup.
1. Innovate individual US stocks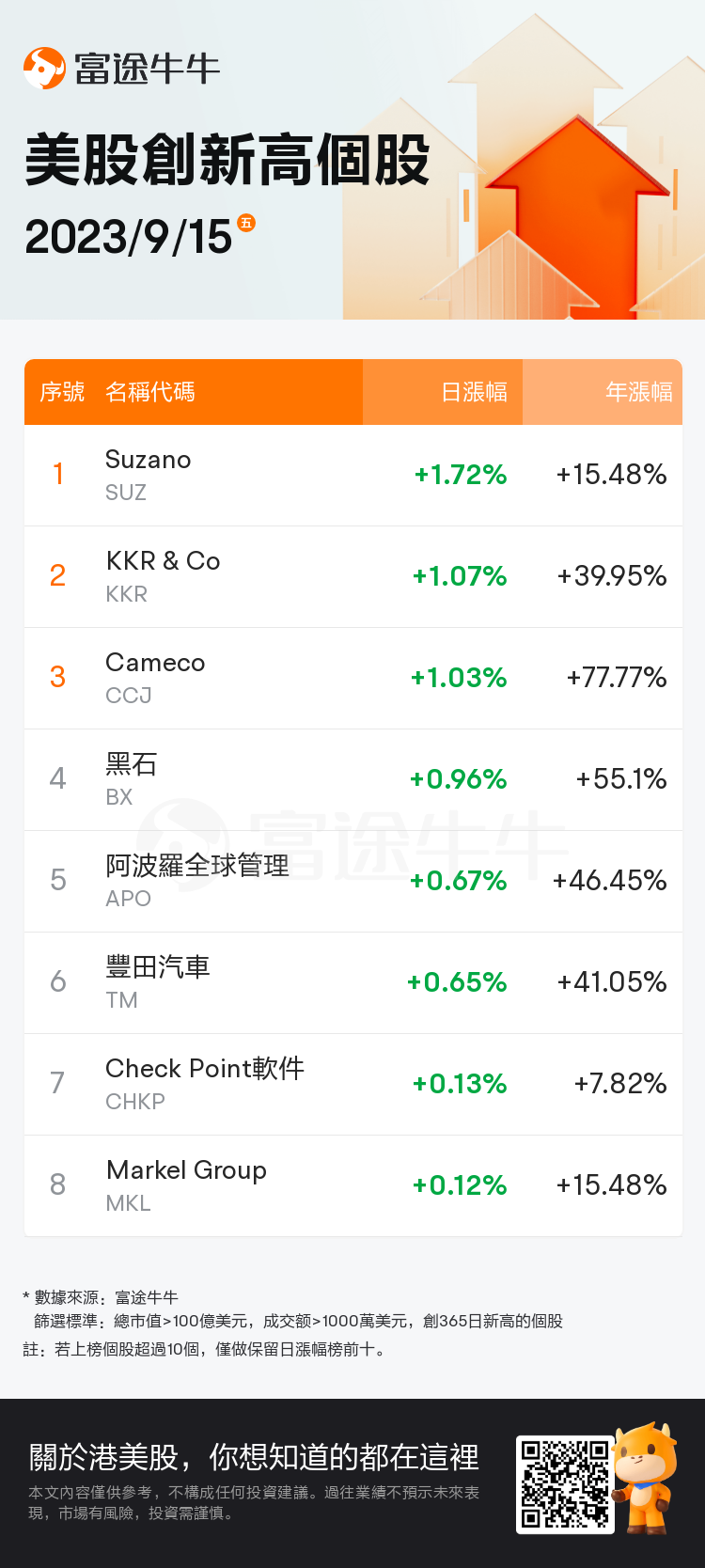 II. List of the rise and fall rates of popular US stocks

Editor/Somer