Source: Hong Kong Stock Research Corporation
The news that "Meituan is about to enter Hong Kong, China" has continued from last year until now, and "a thousand cries have finally begun." On May 21, Meituan officially launched the new takeaway platform KeeTA in Hong Kong, China, and officially launched the food delivery service on May 22.
Currently, the KeeTA App has been listed on all major mobile app stores. As we can see on the App Store, Keeta's logo is in the same vein, "inheriting" Meituan's "bold yellow" color as always. Since then, Meituan Takeaway's "split" KeETA has embarked on a new journey in Hong Kong, China.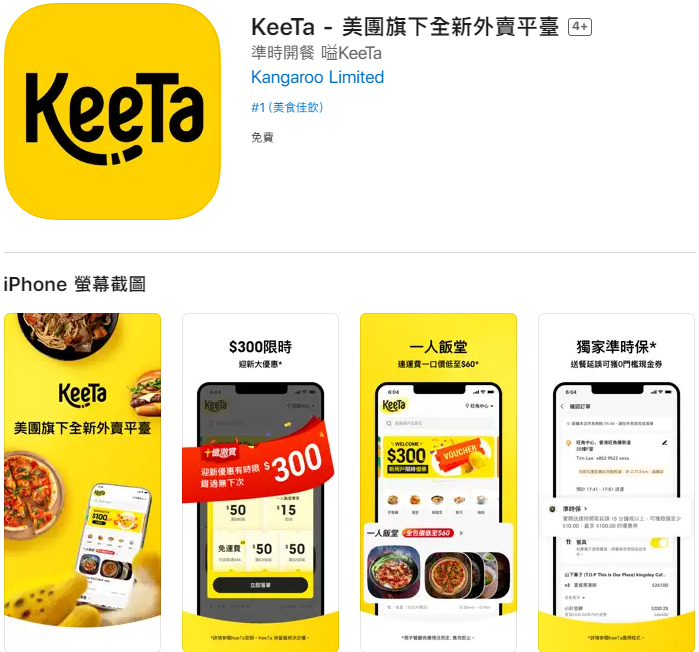 When did Meituan move its "eyes" from the mainland to Hong Kong, China, why did it "stand out"?
As Meituan's first stop in developing markets, Hong Kong, China may have many questions.In fact, it's not hard to see that the reason for everything is hidden behind the slowdown in the growth rate of the domestic market size.
According to data from Ai Media Consulting, the growth rate of China's online takeaway market was 55.05% in 2018, the growth rate of China's online takeaway market in 2019 was 35.97%, the growth rate of China's online takeaway market size was 15.00% in 2020, the growth rate of China's online takeaway market size was 18.20% in 2021, and the growth rate of China's online takeaway market size was 19.80% in 2022. Looking at the past three years, the market growth rate has clearly slowed.
Meanwhile, while the growth rate of domestic and foreign sales markets is slowing, platforms such as Douyin and WeChat video accounts have also begun to enter the market one after another. Instead, the market is bustling, but the entry of various parties has also made the domestic competitive environment more complicated.At this point, Meituan chose to look away from the mainland market and chose Hong Kong, China. This may be a good time to open up a second growth curve.
Looking at the world, Hong Kong, China, is also the best testing ground for close contact with overseas markets. First, Hong Kong, China, is a cosmopolitan metropolis. It has more external connections and more foreigners and foreign-funded institutions, so once it successfully enters, it can lay the foundation for subsequent promotion of overseas markets. After all, entering Hong Kong, China, is only a small step for Meituan to expand its market footprint, and Meituan will have more new moves in the future.
Second, the Hong Kong region of China itself already has many takeout platforms, but it has always been limited by factors such as labor costs and consumer habits, and the current market is not booming. For Meituan Keeta, it's still easier to have a "senior" as a reference point than being a "newcomer" alone.
Furthermore, Hong Kong, China, is also a region with a well-developed economy, high population density, and high consumption levels. According to the BOCOM International Research Report, according to estimates by the data platform Statista, the size of the food takeout delivery market in Hong Kong, China will reach 7.4 billion HK$7.4 billion in 2025, with a penetration rate of about 3%, while in the mainland, the food and beverage takeaway delivery market penetration rate is close to 30%.Therefore, whether judging from the consumption capacity of local residents or the market penetration rate, the takeaway market in the Hong Kong region of China has great potential for growth.
However, although the takeaway market in Hong Kong, China has huge growth potential, it is not a "blue ocean" to be "developed"; on the contrary, the level of competition in the market is more intense than the outside world can imagine. According to an analysis by the consumer data platform Measurable.ai, from the perspective of order revenue, as of June 2022, deliveroo's market share was 37%, while the remaining 63% was owned by foodpanda.
It can be seen from this that the market is basically in a duopoly pattern. So, as a latecomer, why did Meituan still "resolutely and resolutely" choose Hong Kong, China as the first stop to develop the market?
This also starts with Meituan's influence. In fact, long before that, some Xiaohongshu netizens filmed Meituan riders appearing on local streets, so Meituan's "pilot" was probably sooner than imagined.It can also be seen from this that the Meituan brand has already spread to the streets of Hong Kong, China.
The "fame is growing" is probably because the welfare activities of the Meituan takeaway platform are impressive.For example, platforms often have benefits such as full discounts and red envelope deductions. Compared to the largest local Foodpanda takeout platform in Hong Kong, China, not only does it have a minimum spending threshold of HK$60, but each order requires a hefty delivery fee. Although there is a welcome offer at the beginning of the registration platform, non-members can hardly enjoy any other offers after using it up. As a result, the high cost of ordering and delivery also "discourages" many consumers, who would rather choose "self-reliance."
At the same time, in the past two years, the external environment of the food and beverage market in Hong Kong, China, was also very unfavorable to catering businesses. Cooperation with takeout platforms became the only option at the time. The market pattern that was monopolized by leading players made merchants very passive, and bargaining power was controlled more by the platform.
In such an environment, many food and beverage merchants welcomed Meituan Keeta to enter Hong Kong, China, and Zhang Quan, the merchant that runs 22 Sichuan restaurant chain "12 Flavors" locally, also clearly expressed expectations.Similarly, consumers also want to see more "new forces" appear, because more competition in the industry can only lead to a better consumer experience.
Looking at it as a whole, Meituan chose Hong Kong, China as the first step in developing the market. There are indeed many favorable factors. However, if they want to successfully take root in the local market, they will still be plagued by corresponding factors. So, what challenges does Meituan Keeta face, and can it successfully break through the game?
Despite the difficulties, Domeituan KeeTA can still "treat the symptoms"
When it comes to moving to a new market, whether you can adapt to the local culture must be the first question that comes to mind.From the perspective of historical progress, the social composition of Hong Kong, China, is diverse.The people stationed there come from all over the world, and different ethnic groups have their own unique consumption and eating habits. For takeaway platforms, diverse and complex classifications of people mean that service methods cannot be unified, which also makes it more difficult to design platform algorithms.
Furthermore, for a long time in the past, the takeaway market in Hong Kong, China has always been "tepid." According to Future Business Watch, the results of a 2021 survey showed that about 46% of respondents in Hong Kong, China ordered takeout less often than once a month, and about 18% of respondents had never used takeout apps.
Until the first half of 2022, Hong Kong, China imposed a dine-in ban. Dine-in was prohibited in restaurants throughout the region after 6 p.m., and immediately after that, it was stipulated that dine-in can only be eaten after receiving three doses of the vaccine. Local epidemic prevention measures were rapidly tightened, and consumers had to pull out their phones and start downloading takeout apps. Only then did this completely activate the takeout market in Hong Kong, China.
However, with the lifting of the dine-in ban and the gradual relaxation of protection policies, there is still a question mark on whether user habits cultivated during this special period can be continued over a long period of time. Furthermore, Hong Kong, China is already "trading" the two leading platforms. The Hong Kong Stock Research Institute believes that the early stages of Meituan Keeta's entry into Hong Kong, China will be a "vicious battle."
There are problems not only at the market level, but also in terms of operation. Compared to domestic takeaways, they usually drive motorbikes or electric cars swiftly through the streets and alleys, but this is difficult in Hong Kong, China. The terrain is similar to the mountain city of Chongqing. The terrain is uneven. There are many hiking trails. Sometimes food delivery on foot is more convenient for takeaways, but food delivery on foot also means that delivery time on foot will be significantly extended, and timeliness will drop dramatically.
On the other hand, if you choose to deliver food by bike, local parking spaces are tight, and problems such as difficult parking, entry bans, and high fines will follow one after another. Takeaways have a lot of headaches, so strikes are not uncommon in the local area.As a result of increased difficulties, takeaways are highly mobile, and it is even more difficult to guarantee food delivery times.
Behind the poor user experience and high turnover of takeaways, the low labor costs in Hong Kong, China, are also limiting the development of local takeaway businesses.First, the statutory minimum wage in Hong Kong, China, is as high as HK$37.5 per hour. Second, according to Hong Kong media reports, if there are takeaways who deliver about 30 food orders a day, their monthly income can reach 340,000 Hong Kong dollars. This is indeed a huge amount of income.
Problems may be difficult for others, but they may not necessarily be difficult for Meituan.First of all, it is important to confirm that "go home and follow the customs" will be the central idea of Meituan Keeta's integration into the diversification of Hong Kong, China, and trial and error in the early stages of entry is unavoidable. However, as the largest lifestyle service platform in China, Meituan has impressive own strength and operating experience. KeeTA relies on such "solid backing". The Hong Kong Stock Research Institute believes that even "saline-alkali land" can complete field "nuggets."
In response to the monopoly pattern of the local takeaway market, Meituan Keeta's "high salary" may collapse. After all, "high pay" has a certain appeal to takeaways. Only by starting with the most critical "robbing people" and opening up the most critical link can we better seize the market.
According to the Southern Metropolis Daily, Meituan recruits motorcyclists in Hong Kong, China, in addition to their base salary of HK$70 per hour, and will also pay commissions on a singular basis. Each order is worth 50 Hong Kong dollars, plus newcomer bonuses and referral bonuses. Based on industry standards for delivering about two orders per hour, assuming that a takeaway worker makes 500 orders in the same month and receives all the rewards, the income of a walking takeaway worker can reach HK$20,000, and a motorcycle takeaway worker can reach up to HK$35,000.
Compared with the current salary of takeaways in the Hong Kong market, according to the power plant, starting in 2019, the average infantry district could generate an average revenue of HK$50 per order, but as orders became fewer and fewer, the revenue per order gradually dropped to HK$30, and the total income of most takeaways workers also declined accordingly. If you calculate 500 orders per month at HK$30 per order, the total income of takeaways is HK$15,000. Compared with the current salary offered by Meituan Keeta, there is a certain gap.Therefore, rewarding the hard-working takeaways with a better salary is the most direct and effective way to retain people.
At the same time, the problem of difficult and time-consuming delivery can also start with platform algorithms. This is the biggest advantage of KeeTA being backed by Meituan.In the past, targeting the domestic market, the Meituan takeaway platform used the optimization of scheduling algorithms, planning plans, and smart hardware to find the optimal plan of "follow the way+generous time limit". Judging from the peak number of orders per person per day, the delivery time for a single transaction increased markedly. Meituan's average daily order efficiency increased from 30 orders per person in 2015 to 50 orders per person in 2021.
It "stole people" and at the same time has strong platform technology, and the probability that Meituan Keeta will seize the market and win will increase accordingly. Only by having greater control over the market can we have more room for profit.
Speaking of this, in fact, at the end of the day, the problem of high labor costs still needs to be solved from the profit side. More consumers choose and provide more efficient delivery services, thereby increasing user stickiness, and then forming a scale effect to dilute costs.
Overall, if Meituan Keeta wants to successfully enter Hong Kong, China, problems such as the diversification of its social composition, continued growth in takeout demand, and high labor costs will all become "roadblocks" in the way ahead. However, judging from Meituan's strong momentum of "breaking through obstacles" in the domestic market over the past ten years, success or failure may only be a matter of time.
epilogue
From the perspective of market development, Hong Kong, China, is a "good destination." Meituan launched KeeTA as a "pilot" initiative. Although it will face quite a few problems, it is also of extraordinary significance. If the entry is successful, it can not only create a second growth curve for Meituan, but also lay the foundation for subsequent promotion of overseas regions. The first step is difficult, but the "hard" one is worth it.
edit/lambor