On March 21, Northbound Capital made net purchases of 4.295 billion yuan throughout the day, for 7 consecutive days; of these, Shanghai Stock Connect had net purchases of 2.48 billion yuan and Shenzhen Stock Connect had net purchases of 1,815 billion yuan.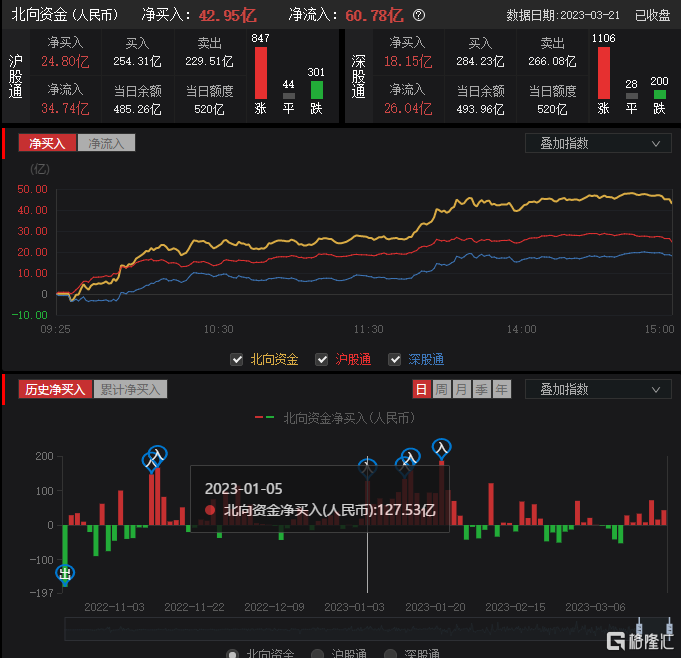 Among the top ten traded stocks, the top three in net purchases were Kweichow Moutai, IFF, and Changchun Hi-Tech, which received net purchases of 584 million yuan, 306 million yuan, and 228 million yuan respectively.
The top three net sales were Shanxi Fenjiu, Yili Co., Ltd., Longji Green Energy, and Industry, which received net sales of 263 million yuan, 253 million yuan, and 247 million yuan respectively.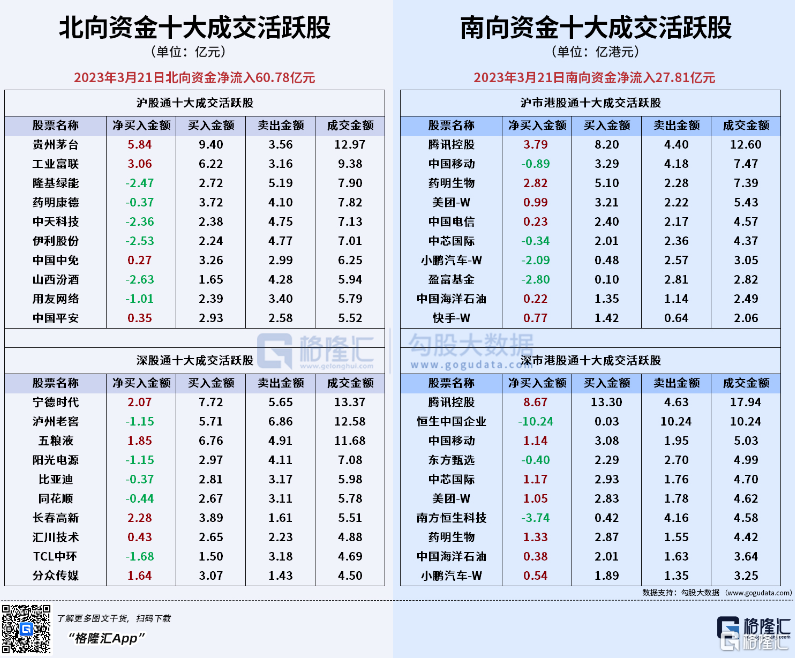 The total net purchases of Southbound Capital exceeded HK$1,013 million throughout the day. Among them, the Shanghai-Hong Kong Stock Connect made a net purchase of HK$758 million and the Shenzhen-Hong Kong Stock Connect made a net purchase of HK$255 million.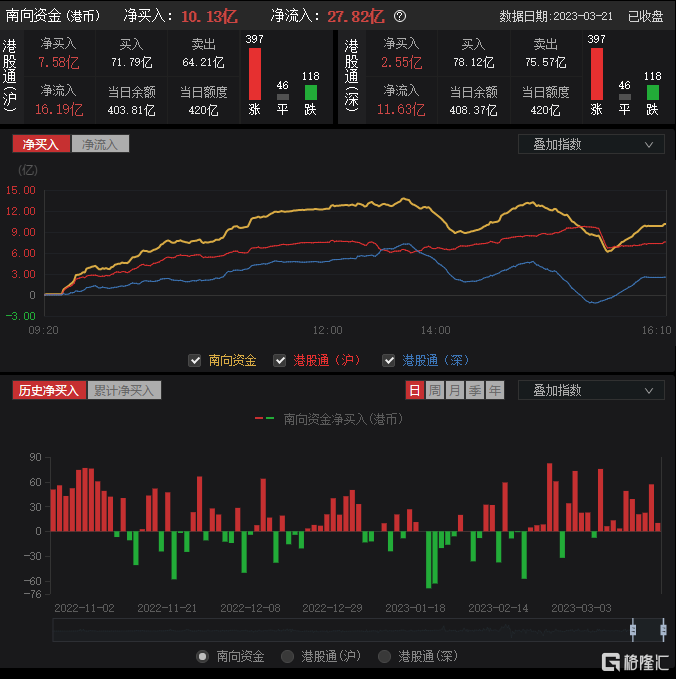 Tencent Holdings, Pharmaceutical Biotech, and Meituan received net purchases of HK$1,246 million, HK$415 million, and HK$204 million respectively; Hang Seng China EnterprisesNet sales topped the list, amounting to HK$1,024 million.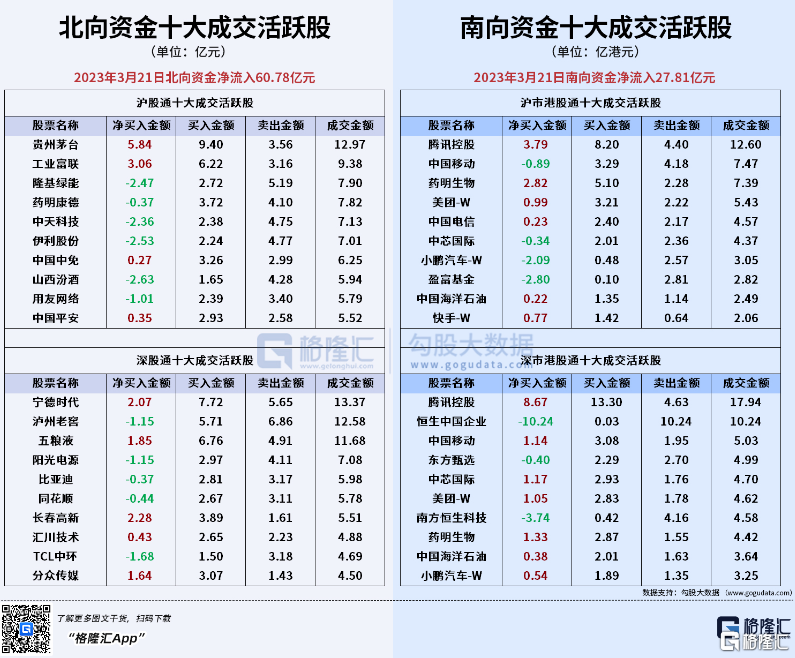 Nanshui focuses on individual stocks
IFFIt fell 1.88% today.On the evening of March 14, IFF revealed its 2022 annual report. Both performance and dividend ratio reached new highs. On March 16, the company held an online performance briefing. E-Fonda Fund,China Gold Corporation196 organizations, including Goldman Sachs Asia, participated.On the afternoon of March 17, IFF stated to the outside world that the efficient computing (HPC) system supplied by IFF to customers has been applied to ChatGPT, as well as future ChatGPT Plus and other AI-related applications.
Kweichow MoutaiToday's increase is 2%.Guohai Securities also said that the liquor sector will enter a performance announcement period for annual reports and quarterly reports, and it is expected that short-term results will also be catalyzed. Overall, after the sector is adjusted, the industry will go out of sharp rise and fall, and continue to be optimistic about the sector's performance throughout the year. Future trends will show a recovery under a divergent trend. Famous wine companies with real sales will follow the economic recovery, and the performance of some companiesOperational pressure and inventory risks are likely to be released in the future. Looking at the medium to long term, liquor will continue the upward trend of differentiation, and continue to be optimistic about Maotai+ regional sub-high-end leaders.


Beishui focuses on individual stocks
Yao Ming BiologyIt rose 8.86% today. incorporationThe company achieved revenue of 39.355 billion yuan in 2022, a record increase of 71.84%, and is expected to continue to increase revenue by 5-7% in 2023. According to the CITIC Construction Investment Securities Research Report, short-term investment and financing fluctuations will be downplayed, and they are optimistic about the long-term development of CRO. It is recommended to seize the timing of the layout and be optimistic about the development of leading enterprises in all directions of CRO.