昨夜美股冲高回落,全线收跌。截至收盘,标普和纳指跌1.5%,道指跌1.7%。美国十年国债收益率涨4个基点,收报3.83%,相较两年期国债收益率差-45个基点,保持深度倒挂。恐慌指数VIX跌0.69%。原油价格持续下跌,布伦特原油跌2%,收报85.34。现货黄金平收,报1660.9美元/盎司。美元指数涨0.17%,收报112。
Last night, U. S. stocks rose and fell, closing down across the board. By the close, the s & p and Nasdaq were down 1.5%, and the Dow was down 1.7%. The yield on the US 10-year Treasury note rose 4 basis points to close at 3.83%, leaving it deep upside down compared with the yield difference of-45 basis points over the two-year Treasury note. The panic index VIX fell 0.69 per cent. The price of crude oil continued to fall, with Brent crude falling 2% to 85.34. Spot gold closed flat at $1660.9 an ounce. The dollar index rose 0.17% to 112.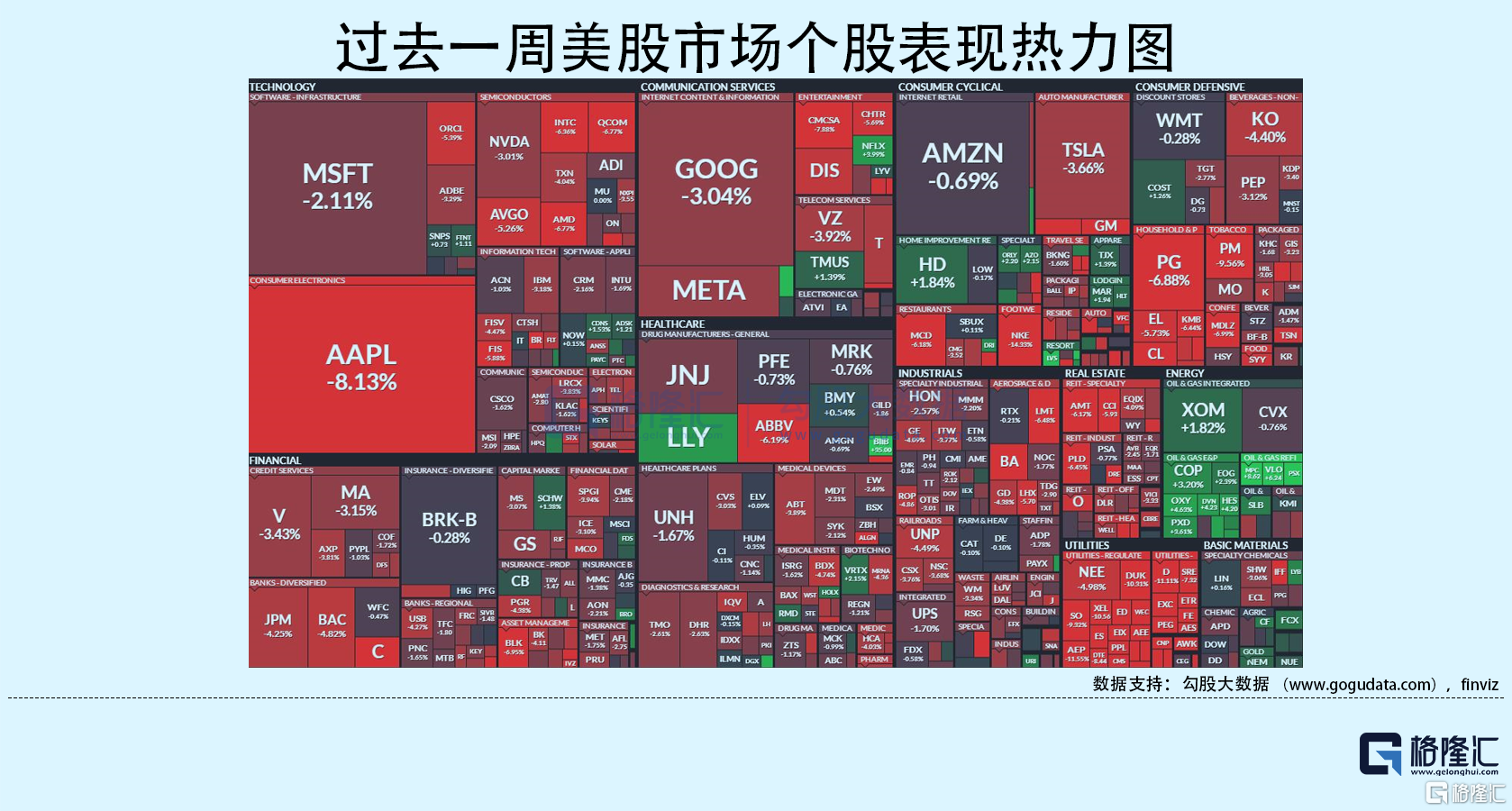 美国8月核心PCE物价指数年率录得4.9%,高于预期的4.7%,前值4.6%。8月个人支出月率 0.4%,也高于预期的0.20%,前值0.10%。机构分析称,PCE再显通胀火热现象。火热的8月CPI报告已经引发了最新一轮的避险情绪,但PCE数据仍然市场吃惊。
The US core PCE price index recorded an annualised rate of 4.9 per cent in August, higher than the expected 4.7 per cent and a previous value of 4.6 per cent. The monthly rate of personal expenditure in August was 0.4%, also higher than the expected 0.20%, with a previous value of 0.10%. Institutional analysis said that PCE shows the hot phenomenon of inflation again. The red-hot August CPI report has triggered the latest round of risk aversion, but the PCE data still surprise the market.
美联储副主席布雷纳德讲话称,美国通胀仍非常高,点阵图显示未来还会加息。美联储承诺避免过早退出紧缩政策,但美联储同时关注金融脆弱性,考虑全球利率收紧带来的溢出效应。美联储票委戴利称,美国经济并没有陷入衰退,经济目前需要减速,预计美联储将进一步加息,加息多少取决于数据。
Fed Vice Chairman Brainard said in a speech that inflation in the United States is still very high and the bitmap shows that interest rates will be raised in the future. The Fed promised to avoid withdrawing from tightening prematurely, but it also focused on financial fragility and considered the spillover effects of tighter global interest rates. Fed ticketing Committee Daley said that the US economy is not in recession, the economy now needs to slow down, and the Fed is expected to raise interest rates further, depending on the data.
美国9月密歇根大学消费者信心指数终值 58.6,低于预期的59.5,前值59.5。长期通胀预期中值为2.7%,自2021年7月以来首次跌破2.9-3.1%的区间。机构分析称,虽然消费者信心略低于预期,但整体仍然保持韧性,美国经济有降温的迹象,而美联储仍将在可见的未来保持紧缩的货币政策,以持续压低通胀预期。
The final consumer confidence index of the University of Michigan in September was 58.6, lower than the expected reading of 59.5 and the previous value of 59.5. The median long-term inflation expectation was 2.7 per cent, falling below the 2.9-3.1 per cent range for the first time since July 2021. Institutional analysts said that although consumer confidence was slightly lower than expected, the overall resilience remained, the US economy showed signs of cooling, and the Fed would maintain tight monetary policy for the foreseeable future to continue to hold down inflation expectations.
机构分析称,加息可能带来痛苦的警告仍在不断出现,动摇了投资者对包括美联储在内的各国央行的信心。美国银行的策略师警告称,美联储的行动路径可能会将信贷市场推向功能失衡。"投资者不应该问美联储是否会转向,而应该问在他们最终采取行动之前,我们会陷入多深的衰退。"
Warnings that raising interest rates could be painful are still emerging, shaking investor confidence in central banks, including the Federal Reserve, institutional analysts said. Strategists at Bank of America Corporation warn that the Fed's path of action could push credit markets into functional imbalances. "investors should not ask whether the Fed will turn, but how deep a recession we will fall into before they finally act."
02 Industry & individual stocks
行业板块方面,标普11大板块除地产外悉数收跌,地产板块逆势收涨1%。高科技、可选消费和公用事业板块跌近2%,必选消费板块跌1.7%,医疗板块跌1.4%,通信板块跌1.2%,工业板块跌1.3%,金融板块跌0.9%,原材料板块跌0.2%。
In terms of the industry sector, all the S & P 11 sectors except real estate closed down, while the real estate sector bucked the trend and closed up 1%. The high-tech, optional consumer and utility sectors fell nearly 2%, the required consumer sector fell 1.7%, the medical sector fell 1.4%, the communications sector fell 1.2%, the industrial sector fell 1.3%, the financial sector fell 0.9%, and the raw materials sector fell 0.2%.
大型科技股悉数收跌。苹果跌3%,两日跌约8%,苹果韩国总部遭反垄断机构突击检查,被指控App Store佣金高于30%。特斯拉跌1.1%,人形机器人将于周末发布,马斯克在社交媒体再次表示,「特斯拉AI日」上将会有很多技术细节和酷炫的硬件演示。微软跌1.94%,正将Win11的Android子系统扩展到更多国家,现已公布21个地区。亚马逊跌1.6%,为削减开支,亚马逊(AMZN.US)计划在美国只保留一个呼叫中心。
All large technology stocks closed lower. Apple Inc fell 3 per cent and about 8 per cent in two days. Apple Inc's South Korean headquarters was raided by antitrust authorities and accused of App Store commissions of more than 30 per cent. Tesla, Inc. is down 1.1%, and humanoid robots will be released over the weekend. Musk said again on social media that there will be a lot of technical details and cool hardware demonstrations on Tesla, Inc. AI Day. Microsoft Corp is down 1.94% and is expanding Win11's Android subsystem to more countries, and 21 regions have been announced. Amazon.Com Inc fell 1.6%. In order to cut expenses, Amazon.Com Inc (AMZN.US) plans to keep only one call center in the United States.
部分热门中概股逆势收涨,中概互联网指数Kweb涨0.33%。贝壳涨7.75%,9月29日耗资约100万美元回购约18.4万股。拼多多涨2.98%,9月1日,拼多多正式上线跨境电商独立站Temu,出海北美。阿里巴巴涨1%,京东跌1.8%。由于特斯拉降价预期,新能源造车新势力普遍承压,理想跌1.5%,小鹏跌1.3%,蔚来收涨1.2%。哔哩哔哩涨0.46%,美银证券称哔哩哔哩可能于国庆节后获纳入港股通。
Some popular US-listed stocks bucked the trend, with the China Internet Index (Kweb) up 0.33%. KE Holdings Inc. rose 7.75% and spent about $1 million to buy back about 184000 shares on Sept. 29. Pinduoduo rose 2.98%. On September 1st, Pinduoduo officially launched an independent cross-border e-commerce station, Temu, to sea in North America. BABA rose 1%, JD.com fell 1.8%. Due to Tesla, Inc. 's price reduction expectations, new energy car-building new forces are generally under pressure, ideal fell 1.5%, XPeng Inc. fell 1.3%, NIO Inc. closed up 1.2%. Bilibili Inc. rose 0.46%, and BofA Securities said Bailey could be included in Hong Kong Stock Connect after National Day.
1.【耐克股价重挫12.8% 市值跌超166亿美元】
1. [Nike Inc's share price plummeted 12.8% and its market capitalization fell by more than $16.6 billion]
财报显示,耐克23财年Q1营收为127亿美元,同比增长4%,超过市场预期的122.7亿美元;净利润为15亿美元,同比下降22%;每股收益0.93美元,高于市场预期的0.92美元。然而,耐克一季度毛利率下降220个基点至44.3%,而普遍预期为45.4%。
According to the financial report, Nike Inc's Q1 revenue for fiscal year 23 was $12.7 billion, up 4% from the same period last year, exceeding market expectations of $12.27 billion; net profit was $1.5 billion, down 22% from the same period last year; and earnings per share was $0.93, higher than market expectations of $0.92. However, Nike Inc's first-quarter gross profit margin fell 220bp to 44.3 per cent, compared with a consensus forecast of 45.4 per cent.
机构评级方面,在所有35家参与评级的机构中,66%的券商给予买入建议,34%的券商给予持有建议,无券商给予卖出建议。
In terms of institutional ratings, of all 35 agencies that participated in the rating, 66% of brokerages gave buy advice, 34% gave hold advice, and no brokerage gave sell advice.
2.【美光营收下滑20% 管理层预计2023下半年存储市场才能复苏】
2. [Micron's revenue decline of 20% management expects the storage market to recover in the second half of 2023]
美光公布的2022财年第四财季财报显示,该季营收同比下滑约20%至66.4亿美元,为两年多来的首次下滑,低于此前美光公布的财测下限目标,也低于市场预期的66.93亿美元。净利润为14.9亿美元,同比大幅下滑45%,每股收益为1.35美元,上年同期为2.39美元,市场预期为1.198美元。
Micron's fourth-quarter fiscal 2022 results showed revenue fell about 20 per cent year-on-year to $6.64 billion, the first decline in more than two years, below Micron's previous target of $6.693 billion and below market expectations of $6.693 billion. Net income was $1.49 billion, down 45% from a year earlier, to $1.35 a share, compared with $2.39 a year earlier, and the market is expected to be $1.198.
展望2023财年第一财季(9-11月),美光科技预计第一财季经调整营收为40亿美元至45亿美元。大幅低于分析师平均预期的60亿美元。剔除部分项目,预计每股收益约为0.04-0.10美元,而分析师预期为0.87美元。
Looking forward to the first quarter of fiscal 2023 (September-November), Micron Technology Inc expects adjusted revenue of $4 billion to $4.5 billion in the first quarter. It was well below the average analyst estimate of $6 billion. Excluding some items, earnings per share are expected to be about $0.04-$0.10, compared with analysts' expectations of $0.87.
美光表示,正在迅速采取行动应对需求的下降。这包括放慢现有工厂的生产速度,削减机器预算。美光CEO Mehrotra在与分析师的电话会议上表示,之前美光已经大幅削减了资本开支,现在预计 2023 财年的资本开支规模将是 80 亿美元,比上一财年将下降 30%。其中,美光在2023财年将把芯片封装设备方面的投资砍掉一半。
Micron said it was moving quickly to deal with the decline in demand. This includes slowing down production at existing factories and cutting machine budgets. Micron CEO Mehrotra said on a conference call with analysts that Micron had already slashed its capital expenditure, which is now expected to be $8 billion in fiscal 2023, down 30 per cent from the previous fiscal year. Among them, Micron will cut its investment in chip packaging equipment in half in fiscal year 2023.
3.【特斯拉Q4计划生产近49.5万辆Model Y和Model 3】
3. [Tesla, Inc. Q4 plans to produce nearly 495000 Model Y and Model 3]
据媒体报道,特斯拉计划在今年四季度生产近49.5万辆Model Y和Model 3,这一数字将远高于该公司三季度的产量。特斯拉预计,2023年前三季度,Model Y和Model 3的产量将达到159万辆。特斯拉通常会在季度结束后的三天内公布交付和生产数据,该公司预计最早将于当地时间周六(10月1日)公布三季度的交付量和产量。分析师预计,特斯拉三季度的交付量有望接近35.8万辆。
According to media reports, Tesla, Inc. plans to produce nearly 495000 Model Y and Model 3 in the fourth quarter of this year, which will be much higher than the company's production in the third quarter. Tesla, Inc. predicts that production of Model Y and Model 3 will reach 1.59 million in the first three quarters of 2023. Tesla, Inc. usually publishes delivery and production data within three days after the end of the quarter, and the company expects to release delivery and production for the third quarter as early as Saturday local time. Analysts estimate that Tesla, Inc. 's delivery volume in the third quarter is expected to be close to 358000.
4.【欧盟监管机构将在11月8日前决定是否批准微软收购动视暴雪】
4. [EU regulators will decide by November 8th whether to approve Microsoft Corp's acquisition of Activision Blizzard]
根据欧盟委员会周五提交的文件,欧盟监管机构将在11月8日前决定是否批准微软收购游戏开发商动视暴雪的交易。今年1月,微软宣布将以687亿美元收购动视暴雪,这是游戏行业史上规模最大的并购交易。理论上,如果欧盟监管机构对这笔收购存在严重担忧,可以展开为期4个月的调查。知情人士透露,欧盟监管机构可能会采取这一做法。微软对此表示,有信心在2023财年完成收购。
EU regulators will decide by Nov. 8 whether to approve Microsoft Corp's acquisition of game developer Activision Blizzard, according to a document submitted by the European Commission on Friday. In January, Microsoft Corp announced that it would buy Activision Blizzard for $68.7 billion, the largest M & A deal in the history of the gaming industry. In theory, if EU regulators have serious concerns about the acquisition, they could launch a four-month investigation. EU regulators are likely to take this approach, according to people familiar with the matter. Microsoft Corp expressed confidence in completing the acquisition in fiscal year 2023.